In 2016 we launched a crowdfunding campaign with GoFundMe thanks to which we were able to collect enough money to start the first bungalows.
Thanks to your support we were able to:
Maintain the first bungalow (protecting the wood, painting it, finishing the cement floor)
Build the "Katernotschi" the second bungalow
Rework the electricity and put in a watertank
Build up the outdoor shower and the toilet
Renovate the houseboat
Start the works on the Soul Kitchen and the common area
We could not have done this without your outstanding support and we are incredibly grateful. Remember, for those of you who participated, you are still entitled to one free night at the camp for every 10€you donated.
If you have your own project or idea for the camp such as building your own little bungalow, setting up a yoga platform, sponsoring some watersports equipment or a skateboard ramp, or if you simply wish to support us, we welcome all donations!
Please contact us by email at: indianas.camp@gmail.com  , we are happy to talk about your ideas!
You can support us through Paypal, bank transfer or in person (in Berlin or in Sri Lanka).
You can find us on Facebook:
Spunky Monkey Indiana´s Camp :  https://www.facebook.com/spunkymonkeyindianacamp/
One of the bungalows we built in 2016: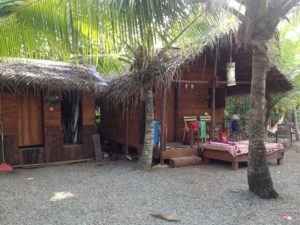 One more thing!
You can decide to invest directly in a bungalow, it's pretty simple: gather enough money for a bungalow by yourself or with other people and share the bungalow all year long between yourselves.
When none of you are staying in your bungalow, we can rent it to visitors of the camp to cover your investment.
Once your investement has been paid back, you can decide how this money gets reinvested within the camp or with local children.
The same goes for our watersport center: we urgently need some stand up paddle boards and need to start building a couple of houseboats and platforms to get another source of income to support the camp.
Winter is approaching quickly, it's time to start thinking about where you'll escape the cold weather!
If you have a special idea or project that you want to support, please do not hesitate to come and talk to me about it.
Support us and sponsor one board and paddle !
____________________________________________________________
Save
Save